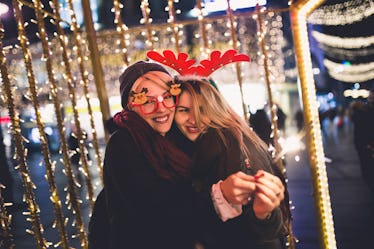 8 Attainable Things You & Your Broke BFF Need To Add To Your Holiday Bucket List
The holiday season is finally here. They say it's "the most wonderful time of the year," but sometimes, my wallet begs to differ. The holidays can be difficult when you want to spend your money on the perfect presents for friends, yummy seasonal treats, and a new outfit for the office party, but your bank account is screaming out in utter fear. Luckily, if you and your BFF are in the same boat, you can help each other get in the right spirit without straying from your budget. There are plenty of things to do with your best friend when broke this season. You don't need to be rolling in the dough to get a hella awesome holiday bucket list going that'll fulfill all of your festive needs.
You and your BFF may not be able to go HAM, but you'll be rich in holiday spirit. Most things we look forward to doing throughout the season are free (or pretty close to it), like watching our fave holiday classics or getting a good look at all of the Christmas decorations. So, get ready for an awesome holiday season with these eight attainable activities you and your friends can do when you're tight on the funds. We all know it's better to be a Tiny Tim than a Scrooge, anyway.