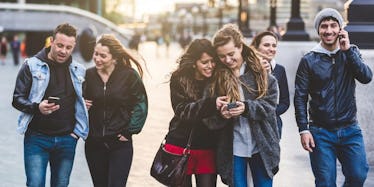 10 Things To Do With Your College Squad When You're Bored And Broke This Fall
william87/Fotolia
Going back to school for the fall semester is nothing short of exciting. You have all new classes, a renewed sense of school pride, and a whole squad of friends to reunite with. But as much as you'll have a lot going on this season, it's likely you'll encounter a bout of boredom. Never fear, because there are plenty of cheap things to do with college friends, even if you're broke.
The beautiful thing about living on or near a college campus is the amount of activities that are cheap and accessible to students, so take advantage of what your community has to offer. In the fall, there is plenty of sunlight to enjoy, and tons of seasonal activities to keep you busy. Needless to say, when boredom hits this semester, grab your squad and make some memories. You may have to get creative, but you can do almost anything on a student's budget. Here are 10 things to do with your college friends when you're bored and broke this fall.
1. Movie Night
Grab your girls, pop some popcorn, and enjoy a relaxing night in. Halloween movies are a favorite in the fall, so a quick scroll through Netflix or your TV guide will get you in the holiday spirit. You can't go wrong with a girls' night classic like Mean Girls, even if there are guys in your squad, so make room for a movie marathon. Time will fly.
2. Attend A Sports Game
College campuses are hotspots for sports, whether they're school sponsored or not. Football is the king of fall sports and is sure to keep you occupied on game day between tailgate parties. In between classes, you can find students tossing frisbees and playing catch in the quad since the weather is still warm. Join in on the fun for awhile, and you'll forget the meaning of boredom.
3. Shopping Spree At Thrift Stores
Retail therapy works magic on almost anything -- stress, sadness, and boredom. Thankfully, you don't have to spend a ton to satisfy your shopping needs. Secondhand stores are gold mines for unique finds at amazing prices, so get to it.
4. Explore The Outdoors
Autumn weather is a nice middle ground between the heat of summer and the chill of winter. It's perfect for spending time outdoors, whether you're chatting with a friend or going for a run. College campuses are safe and interesting places to hang out, so you're sure to find something to kill your boredom right outside of your dorm.
5. Have A Photo Shoot
What makes for a better picture than autumn leaves and your favorite people? Nothing. It's not hard to get creative with the fall foliage, so go crazy and capture all of the laughs. As a bonus, you'll always have the photos to remember your crazy photography experience.
6. Make Dinner Together
Everyone's got to eat, so you might as well make something fun out of it. Borrow someone's kitchen for the evening, take a field trip to the grocery store, and make yourselves a nice dinner. It's totally OK to have no idea what you're doing; someone will probably know how to cook, and the rest of you will learn how to adult properly.
7. Get Crafty
DIY-anything is a sure way to kill time and be productive. It can be fun and challenging to follow vague Pinterest instructions, but your epic fail will just be something else you and your friends can laugh about. If all goes according to plan, you'll have something new to show off in your dorm.
8. Play Games
This is classic, but it's also tons of fun. When you're with the right group of people, even menial activities can be the time of your life. Borrow a board game from your campus Rec center, or challenge each other to a round of lawn games. It's more fun than it sounds, I promise.
9. Try Out Local Cafes
Even though coffee is probably more expensive than it should be, it doesn't cost much to hang out at a local cafe with good company. Tour your town's selection of coffee shops to find a new favorite. A new place with familiar faces is always a welcome adventure.
10. Put Together A Picnic
Grab a few of your favorite snacks, your favorite people, and find a new favorite spot. This doesn't have to be an elaborate or expensive trip; PB&J sandwiches are a well-loved classic picnic lunch. You don't even have to plan this in advance; you can figure it out as you go. That's pretty much what life is like as a young adult anyways, so you'll be just fine.