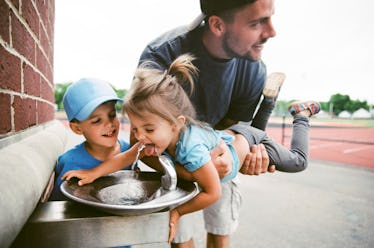 8 Hilarious Dad Fails That Make Us LOL & Love Him Even More
In your eyes, your dad is a superhero. So, when you think back to all of the times when his dad skills were truly on point, you can't help but smile or crack up. He didn't always have a handle on every situation, though, but the outcomes were so lighthearted and funny. I mean, how could you not keep tabs on those hilarious dad fails that made you adore that guy even more?
Your dad has pulled off the seemingly impossible right in front of your eyes many times. (Seriously, you're still wondering how he managed to build you an entire treehouse when you were a kid without you even noticing.) But, nobody's perfect. The least you could do is help Dad laugh it off when he has to face a hilariously epic fail.
These fails aren't necessarily linked to your dad being clumsy, either. He's human, and as much as he may be your superhero at heart, you love him even more for those times he had to face his kryptonite. Luckily, your dad doesn't let these fails get him down, and it's pretty admirable. If you've gotten stomach cramps from laughing so hard at your dad, he likely attempted and failed at these eight situations.