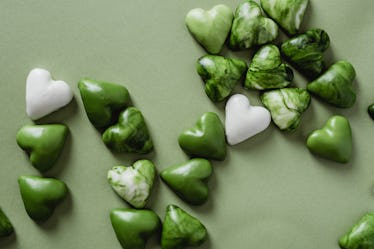 8 Green Foods For St. Patrick's Day That Taste Way Better Than Green Beer & Cabbage
Get your green food coloring out, y'all, because everyone's favorite Irish holiday is right around the corner. Since I'm sure you will be dressing in head-to-toe emerald, wearing your shamrock pin, pinching your friends, hitting up the parades and going to the pub, one of the other most festive ways to get in touch with your inner leprechaun is to make way to the kitchen and prepare some beautifully green foods for St. Patrick's Day. So, put your (green) aprons on, my friends, because it's time to go all-out-Ireland.
Of course, the traditional corned beef and cabbage meal isn't exactly everyone's favorite dish (side note: I finally tried it last year for the first time, and guys, it's actually pretty darn good), but that's far from the only option on the table. Celebrating St Patrick's Day in the kitchen is all about getting creative with how you can make your favorite meals a little more green.
Whether you're bringing in something super sweet to share with your co-workers or classmates, or you just want to liven up your regular daily meals with an extra and oh-so-nutritious boost of natural green, these recipes are sure to leave you smiling like you just found a big pot o' gold.