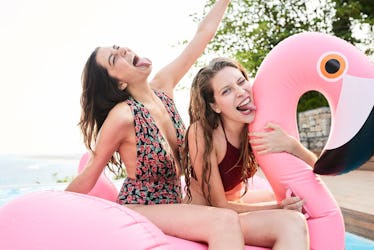 If You Don't Check Off These Squad Goals With Your Crew, Did Your 20s Even Exist?
Each year comes with new lessons. While your childhood and teen years were about growing up, your 20s is all about discovery. You're figuring out what you want to do with your life, where you want to live, and the people you want to surround yourself with. Each day is a fresh, new opportunity to figure out the puzzle pieces — and it can all get a little overwhelming at times. That's why it's important to stop and focus on living your best life in the moment. Consider a few goals to set in your 20s with your besties, to really make the most of this decade.
When you've got your best friends on board, you're bound to have a good time. Whether you're spending your weekend exploring the great outdoors or traveling someplace a tad bougie, your 20s is the time to live it up with zero regrets. Don't be afraid to say "yes" to plans and new opportunities, because you just might have the time of your life.
Stumped for ideas to kick off your journey with? No problem. Tthese eight ideas make up the perfect bucket list for every 20-something friend group. If you haven't checked a few of these off, can you really say you're living your best life?