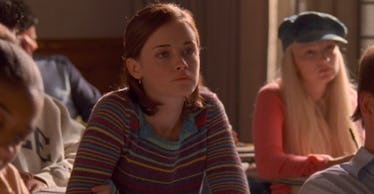 8 Of The Most Relatable 'Gilmore Girls' Scenes That Got The College Life So Right
Growing up, we all had our favorite shows that taught us a lot about life. For me, that show was Gilmore Girls. From Lorelai and Rory, I learned that coffee was the most important thing there was, and the faster you talked, the more pop culture references you could get into the conversation. And when Rory went off to Yale, it was also my first glimpse into college life. Television shows don't always depict the most accurate real life situations, but there were some Gilmore Girls scenes about college that rang so true.
Some aspects of Rory's Yale life were things you might not experience. I mean, come on, that freshman dorm was unfair. Also, she got lucky having Paris there, and being able to drive home all the time. Not to mention when Lane practically lived with Rory in her dorm for a bit. Seriously, how big was that dorm room?
Putting all those moments aside, these eight scenes from the series got college life pretty accurate. So, any incoming freshman, I highly recommend planning a dorm bonding night of re-watching Gilmore Girls on Netflix with your roomies. Just don't forget the snacks. It wouldn't be a Gilmore night without the snacks.