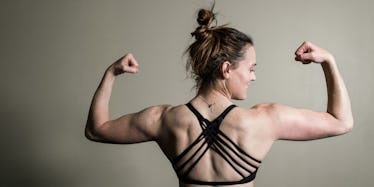 8 Clever & Useful Gifts For People Who Always Work Out At Home Instead Of At The Gym
With the new year quickly approaching, the resolutions are piling up fast, which means the gym is about to get hectic AF. Honestly, home workouts have never sounded more appealing, especially since they're the perfect way to maintain your fitness routine without having to weave your way through a sea of sweaty strangers. So, whether you know someone who's going to dodge the gym for a while because of the crowds, or you have a friend who has always been all about working out alongside her bed, these gifts for working out at home are perfect for the holiday season.
Home workouts are basically the best thing ever, because they're free, you can get super sweaty sans equipment, and you don't need to count on anyone but your damn self — no unreliable fitness center hours, no flaky workout buddies, and praise be, no 30-minute cardio equipment limits.
But, as simple and minimalistic as home workouts can be, it's always nice to have a couple of high-tech fitness gadgets and super cute athleisure pieces here and there to spice things up. So, as the season of gift-giving approaches, here are eight gifts that are absolutely perfect for anyone who loves to get their sweat on from the comfort of their own home.