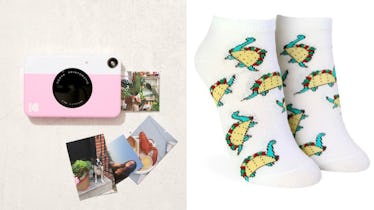 For The Person Who "Doesn't Want Anything" This Holiday Season, These 8 Gifts Are Perf
Urban Outfitters/Forever 21
How many of you have already finished your holiday shopping? How many of you haven't even started? For years my sister would brag to me about how she'd wrap up gift-shopping in July, and if that's your strategy, good for you, but personally, I prefer to keep the holiday season reserved for Black Friday through New Year's. In other words, I'm late to the game, which, generally isn't a big deal — I'm a pro when it comes to shopping for presents — but then there's figuring out gifts for people who "don't want anything," and the amount of brain power required for that kind of brainstorm can disrupt my entire flow.
On the one hand, I totally get it. We're all adults here, and when you want something, you probably buy it. On the other hand, you know damn well this season comes around every year, so is it really that much of a strain to even just offer the slightest hint? No? OK, fine. I'm not going to try and pry it out of you.
Typically my response to anyone who just shrugs and says they "don't want anything" will hear me quip, "then you're not getting anything." But just an FYI: I'm lying through my teeth.
Ask my husband and he'll tell you, I live for the holiday season, especially when it comes to gift-giving. TBH, Santa might as well hire me, because I'm practically a Christmas elf. To me, that precious moment when you've swapped gifts with a friend or family member, and you get to watch them tear off the wrapping paper you spent so much time on to make sure the creases were just right, and see their eyes light up at the item you've picked out special for them, is everything. So no, I don't really care if you "don't want anything" for the holidays. I am going to get creative, uncover something fabulous, and present you with the best gift you've ever received. At least, that's the goal. What can I say? I'm an overachiever.
Still, I totally understand if you're not that interested in playing this devious guessing game of what to get that one extremely elusive person in your life. The way I see it, you have two options: Force them to make a list, or browse the ideas below for inspiration. Either way, good luck!