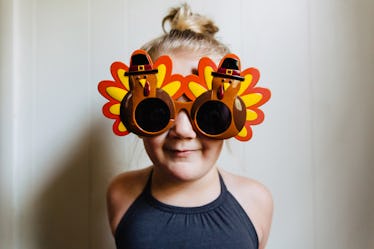 8 Thanksgiving Foods That'll Actually Stop The Holiday Hangover Right In Its Tracks
Thanksgiving is almost upon us, and with the holiday comes food, food, alcohol, and more food. Eating on Thanksgiving day requires a full-blown strategy and execution: In order to eat a little bit of everything, you need to map out the holding capacities of your plate. But for many people, Thanksgiving is as much about drinking as it is about eating. That's why you're better off knowing ahead of time about the foods that help hangovers, especially on an eating extravaganza like Thanksgiving.
The four main causes of a food hangover are sugar, fat, salt, and carb-rich foods. Combined with the standard alcohol hangover, Thanksgiving is poised to be a potential nightmare for the whole body — but it doesn't have to be that way. Eating the right breakfast, filling your plate with veggies, and hydrating your body properly will all contribute to a hangover-free day after Thanksgiving is over. This might be especially important if your alarm is set for 4 a.m. to snag all of those Black Friday deals.
Like any exercise or meal, there's a way to give your body exactly what it needs while still genuinely enjoying yourself. You can have it all — as long as you add in some helpful hangover-fighting tools along the way. Here are eight hangover-fighting foods to incorporate into your Thanksgiving celebration this year.