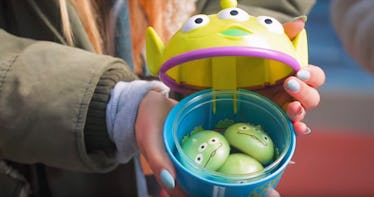 8 Foods From Tokyo Disneyland That Are Almost Too Cute To Eat
Mickey waffles and dole whip are what come to mind when we imagine Disneyland food, but there are so many other specialty treats you can get at the Disney parks around the world. It almost makes you want to hop on a plane right now, and travel to these destinations just to eat. The Disney brand is so well-known, that you'll always feel at home no matter where you are. Though, each country has a little unique twist to their treats offered in the park, and the foods from Tokyo Disneyland are just too cute to eat.
Japan really knows how to turn the cuteness factor all the way up. Every single food item offered throughout the parks has an adorableness to it that makes us not want to eat it — almost. Our hunger outweighs our need to preserve the adorable treat in front of us, and we're so glad it does, because these foodie items are just as tasty as they are Instagram-worthy. If you're planning a trip overseas to visit the Tokyo Disney Resort, you need to add each one of these eight items to your to-do list. Just don't forget to take a picture before you dive in, so the rest of us can all swoon over how cute your food was.