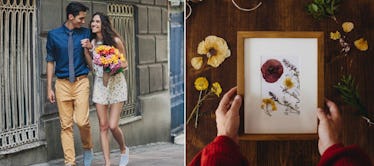 These Sweet Dried Flower DIYs Will Make That Special Bouquet From Bae Last Forever
Beautiful flowers are blooming all around. I love this time of year, because we're finally seeing that pop of color make an appearance in nature once again. Spring has sprung, and it's the perfect time for a fresh bouquet from bae. As much as you might love getting flowers, it's beyond sad when your bouquet starts to wilt. What once was so beautiful and bringing so much life into your apartment, is now starting to look drab. Luckily, you can make that sweet gift you received from your SO last forever. Get creative with some DIY dried flower crafts. They will definitely bring that special bouquet back to life, making it everlasting.
When I was younger, I used to love pressing the roses in my bouquets after a dance recital. When you frame them, they definitely bring a romantic, elegant, and delicate touch to any room. If framing's not really your style, these eight different ways to decorate with dried flowers are totally unique. Pretty soon, your apartment will look rejuvenated and colorful like spring all of the time. Plus, your bouquet from bae will now last as long as the love between you two, and that's just too sweet. It's time to get crafting!