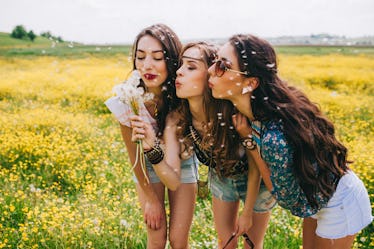 These Date Ideas To Plan With Your Person Will Hit You In The Spring Fever Feels
The sun is about to come out of hiding, and those oh-so-missed warmer temps are going to be the gateway for those sundresses and open-toed shoes. It's like Mother Nature's reborn period, and you couldn't imagine experiencing this soft and sweet portion of the year without your person. Meredith Grey and Cristina Yang from Grey's Anatomy may have coined the "your person" phrase, but you know very well that that bond is all too real. Once the flowers start blooming, you're not holding back on planning dates to go on in spring with your BFF, because taking in all that beauty shouldn't be done alone.
From the outfits and the need to once again be outside, spring allows us to come out of that winter shell we've been sulking in for a few months. You definitely saw your BFF during that time, but the both of you know it was agonizing tailoring your plans to accommodate the weather conditions outside. Well, it's time to dust off the flip-flops and trek to some new adventures with your BFF this spring. Being outside is a given, but there's more than one way to soak up the sun and enjoy some fun activities with your person.