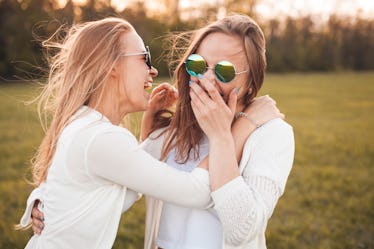 7 Big Things You're Missing Out On In Life If You Don't Have Your Person
The hunt was on once Meredith and Cristina from Grey's Anatomy blessed us with the idea of having "your person." Their relationship was genuine, loving, and most importantly, it was real AF. Having a go-to person is super special, and if you don't have one, there are things you're missing out on in life -- and we know how agonizing that FOMO can be, right?
Your person is just that; their very existence and personality seems like it was manufactured in the universe's workshop to be perfectly compatible with you. Think of the relationship as a hybrid best friend. Seriously, the mental, emotional, and physical support this person supplies to your life is a major asset to the person you are.
For many of us, we didn't have this person from the get-go. They're someone who miraculously entered our lives and made us feel as though they were always meant to be there, no matter what. There's no hiding the impenetrable vibe you two release when you're together, and you wouldn't change a thing about it.
OK, now that I've overly swooned this "your person" relationship, you need to understand what someone is lacking if they don't have this human in their life. There's almost nothing that your person doesn't provide, which is why if you don't have one, you're missing out on some major things.