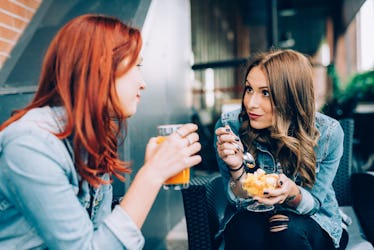 8 Types Of Hot Tea To Spill With "Your Person," Regardless Of The Time Of Day
"Your person" is privy to basically everything. They're your safe space, and no matter what time of day it is, they are always ready to hear your story or current situation. There are no limits to things to tell your best friend, and even if these things would normally seem outlandish to the average person, "your person" doesn't quite analyze them that way.
That's the blessing about having "your person." It's like your little slice of heaven on earth who just listens to all that you have to say. They don't necessarily tell you that you're right all of the time — thank God — but their ears are always open to your sporadic observations, experiences, and recollections. Seems too good to be true, right?
Well, we aren't complaining about our little blessing in human-form, because ultimately, they're so much a part of who we are. From your love life to your small office beefs, "your person" knows about every detail when there's riff-raff. We can probably never repay them for how open they are to hearing the mini soap operas that are our life, but they definitely know we appreciate it. Even if "your person" is miles away, you instantly call, text, or Email them if any of these things happen.