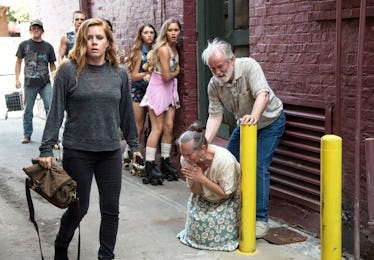 8 Tiny Clues About The Murderer In 'Sharp Objects' That You Definitely Missed
HBO
Warning: Spoilers for the Sharp Objects finale follow. Sharp Objects' biggest twist of all was that the wrong woman gets arrested for the murders of Ann Nash and Natalie Keene. After it took Camille's editor, Frank Curry, racing down to Wind Gap with proof of Adora's murdering Marian, backing Detective Willis up, and getting Vickery to admit the culprit was a woman, it wasn't Adora at all. It was her daughter, Amma, acting out in a rage. But what were the clues Amma was the murderer on Sharp Objects? Turns out they were there all along.
Much like Gillian Flynn's later novel, Gone Girl, there are subtle clues all throughout the series pointing to Amma as the culprit and not just the obvious answer that neither of the male suspects, John Keene and Bob Nash, had it in them to kill. The murderer was young, strong, and full of twisted rage for which there was no outlet, just like Camille. But where Camille found refuge in turning inward and hurting herself, Amma found it in lashing out, taking down anyone who got between her and the mother who was poisoning her. She had all the narcissistic need of her mother, and all the rage of a child abused, and the result was death.
Here are the biggest clues Amma was the killer the whole time.