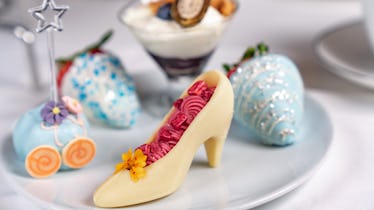 8 Cinderella Treats At Disney Parks That Every Princess Needs To 'Gram
Courtesy of Disney Parks
It was Cinderella who sang, "A dream is a wish your heart makes." But what she really should have said was, "A dream is a wish your heart bakes," for all of my fellow foodies out there. It doesn't get more wish-fulfilling than savoring a delicious treat at Disney for snack time. Disney's Instagram-worthy food game is on point, and the Cinderella treats at Disney parks are no exception.
According to Disney Parks Blog, this year marks the 70th anniversary of the beloved animated classic. To celebrate, both Disneyland and Disney World have added beautiful sweet treats that are nods to the film. From Cinderella's carriage to the adorable mouse, Gus Gus, the treats on this list are more than just tasty — they're the kind of treats you see on Instagram that make you stop and drool.
If you're heading to either Disneyland or Disney World soon, you'll want to add these to your must-eat list. These treats won't be around for long, though. The celebration will end on Feb. 28, 2020, so you'll want to get them before they've disappeared. If your stomach is currently growling just from looking at this food, you'll want to wish for your very own Fairy Godmother to bibbidi-bobbidi-boo you to Disney ASAP.