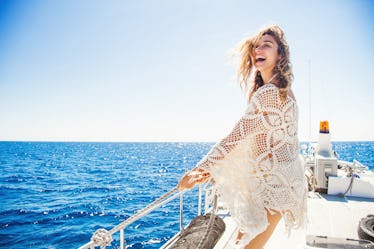 14 Things To Pack For A Disney Cruise Along With Your Whosits & Whatsits
Shutterstock
There are cruises, and then, there are Disney cruises. There's something so magical about sailing the high seas with all your favorite characters that makes it a must-do for any Disney lover. It's not just the characters you can expect to see, though. There's also delicious food, adventurous ports of call, and spectacular entertainment. So if you have a vacation planned, you may be wondering what to pack for a Disney cruise so you don't over or under-pack.
Toiletries and essentials aside, what are the things you need to bring to make your vacation as smooth sailing as possible? Formal wear, Instagram-worthy outfits, and beach necessities are a given, but there are also some things that are specific to Disney, like pirate wear for a Pirate Night deck party and Disney-inspired door decorations to make your room festive.
There's no need to stare at your suitcase any longer, wondering what to put in it. All you need to do is follow this packing list of 14 items that will help make your Disney adventure even more special and picture-perfect. That way, all you need to focus on when you get on the boat is to head straight to the buffet, snap a cute pic with Mickey, and relax in the most Hakuna Matata way.