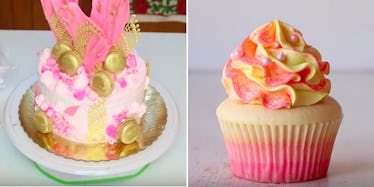 8 Champagne Birthday Cakes That'll Make Your Celebrating That Much More Lit
youtube
For anyone who says as you get older, birthdays aren't that big of a deal, clearly just isn't thinking right. You can still throw the most epic ragers for your birthday at any age. The most important thing you need is a great cake. The cake really takes a regular party, and makes it a celebration. You also need a birthday cake that goes with the theme of the party or the guest of honor, so if you love champagne, you should consider some champagne birthday cakes to make, so that your special day is extra lit.
Some of these cakes taste like champagne or look like a bottle of your favorite bubbles. Either way, you know your party will pop with a champagne cake. If you need some inspiration, here are eight cake recipes to follow along with. They're all easy to make, so you can totally whip one up at home.
You're celebrating another year of this earth being graced by your presence, so it calls for a toast, or in this case, a slice of cake. And the candles won't be the only thing that are lit with this cake around. If you do decide to go with a champagne cake, don't forget to save me a slice, because I'll seriously be right over in a Prosecco.