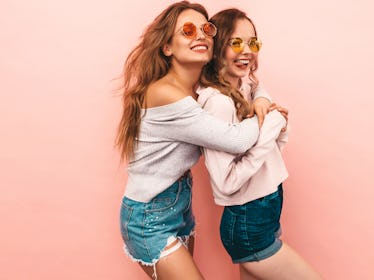 8 Extraordinary Things About Having A Little Sis That You Appreciate When You're Both In Your 20s
Having a sister you're really close to has you feeling blessed on the daily. You love that you were basically given a best friend for life. As the older sister, you had someone following in your footsteps and looking up to you as a role model. She was your responsibility, and you always kept an eye on her. Along with your big sister duties, there are a ton of benefits that come with your role as well. These are some of the best things about having a little sister that you wouldn't trade for the world.
Depending on when you were born determines a lot about what role you play in your family. Growing up, you were the mature older one to your loving little sister. That sister dynamic is a little hard to explain to an outsider, but basically, having a baby sis means that you get these eight perks. Now that you're both in your 20s, those perks are brought to the next level.
It's like you were handed a new job the day your sister was born. You didn't even have to apply for it. Along with the new role, you were also given these cool benefits that are exclusive to older siblings. For that alone, you're forever grateful to your parents for giving you the best gift ever: your sister.