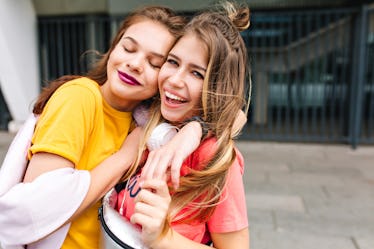 10 Thank Yous Every Girl Owes Her Big Sister, Because She's Always Been There
The bond you have with your older sister is a special one. Growing up, you always had a best friend to do things with and confide in when you needed to talk. You feel especially lucky, because you were the little sis and you were blessed with the greatest big sister in the world. You love her so much, and there many things to thank your older sister for that you probably don't get to say as often as you'd like.
Obviously, she doesn't need to hear you say, "thanks," but you feel so much better letting her know just how much she means to you. With my sister, she was always the role model I looked up to. She had a closet I always wanted to steal from, and had the coolest group of friends I wanted to squeeze my way into. Not only was she my role model, but she was always there for me when I needed to vent or just wanted to hang out.
Your sister probably is the same for you. As the little sister in the fam, you're guaranteed the greatest BFF for the rest of your life, because you have your older sister who possesses these 10 things that makes her so unique. So, now's the time to send an out-of-the-blue text thanking her for all she's done for you over the years, because she deserves the love.