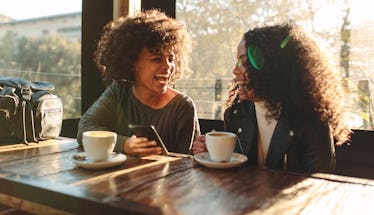 8 Online Quizzes You Can Make That'll Keep Your Group Chat Occupied For Hours
Jacob Lund/Shutterstock
You can't deny your friends know more about you than most people, but how well do they really know you? If you're in need of a fun activity and want to spice up the group chat, I have you covered. Test their knowledge and send them a quiz (or a few) from this list of the best online quiz makers for friends. Your group chat will be poppin' in no time, and who knows — you may learn something new about your besties.
If you have a hard time coming up with the perfect questions to ask, no need to fret. These eight quiz makers already have everything lined up for you, so all you need to do is fill in the blanks. Then, send the links to your friends for them to each answer. They'll either totally nail it when it comes to knowing exactly what you're thinking, or you'll have something fun to laugh about when you receive their answers.
Pretty much, these quizzes are a fun and simple way to bring you and your besties closer together. That means after you quiz them, they can quiz you, and soon enough, you'll be acing the best friend department like pros.