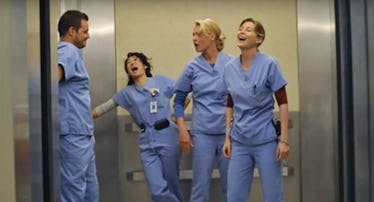 8 Best 'Grey's Anatomy' Moments That Prove Your Coworkers Are Literally Family
When you spend most of your days with the same people, you grow super close. That's probably why you view some, if not most, of your coworkers like they're part of your family. Not only are you spending a bunch of time with them every single week, but you're growing together and working on one ultimate goal. Even when they piss you off or you have different points of view on a particular project, you still care about them immensely, just like the doctors at Seattle Grace Hospital on Grey's Anatomy. You could even see that some of the best Grey's Anatomy moments prove your coworkers are not only best friends, but they're family as well.
When you go through as much drama, love, and loss as Meredith Grey and her team go through, you're bound to become super close. Sometimes you're spending at least 40 hours a week with the same humans, so if you're not looking out for each other and laughing over inside jokes by the water cooler, it can be a pretty draining lifestyle. Needless to say, round up your coworkers ASAP, because when you re-watch these eight amazing moments on Grey's Anatomy, you'll most likely find yourself and your crew hardcore relating to them.