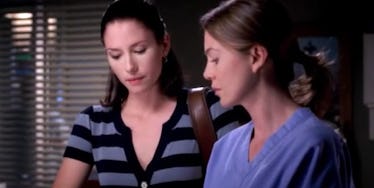 6 Things We Learned About Sisters From Meredith & Her Sisters On 'Grey's Anatomy'
Meredith Grey from Grey's Anatomy went most of her life not knowing she had a sister, to then having three of them. If you have a sister, you know how much they can impact your life on the regular. A sis is basically like a best friend you're born with. You can also inherit a sister through marriage, and that bond is just as strong and beautiful. A sisterhood is undeniably special, and there are definitely some things you learn about sisters from Grey's Anatomy.
Sisters teach you so much about life and relationships, especially if you're the little sis. They are true confidants you can trust with your entire life. My sister is the only person who knows all of my secrets, and I know in my heart that she will take them to the grave.
If you have an amazing sister of your own, I advise you to watch Grey's Anatomy with her and immerse yourself in the relationship that Meredith has with her sisters. You'll definitely find yourself saying, "They're just like us."
Even if you don't have a sister of your own, you can begin to understand that unique kind of relationship. Meredith didn't know she had a sister for a good chunk of her life, and she had to learn what it meant to have one the moment Lexie walked into Seattle Grace. It's as if we're all learning what it's like to have a sister at the same time as Mer from these six moments in Grey's Anatomy that shine a spotlight on Meredith, Lexie, Maggie, and Amelia.