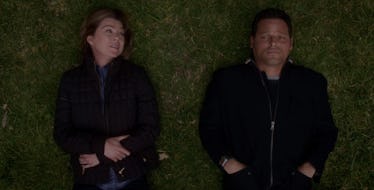 7 Meredith & Alex Moments From 'Grey's Anatomy' That Make Us Have Hope In True Love
We were all completely devastated when McDreamy passed away in Grey's Anatomy. Meredith Grey and Derek Shepherd were the perfect couple who made us believe in true love, but maybe that wasn't the only true love for Mer. What if she's also meant to be with her best friend, Alex Karev? It seems as though a lot of fans have been shipping it for quite some time, and we're here for it. I mean, who has never failed to be there for our Meredith throughout the course of the series? He has always been a true constant in her life, and let's face it, we see the love brewing there in the best Meredith and Alex moments from Grey's Anatomy.
We all want our partner in life to be our best friend anyway, so it just makes perfect sense that these two are soulmates. Sure, they both have had separate great loves and loss that would make us hesitant in shipping them at first. However, over the course of the series, Alex and Meredith have always been there for each and continue to be there, even after everyone else leaves. That, my friends, is true love. Stop toying with our hearts, Shonda Rhimes, and just give our "dark and twisty" girl a forever kind of a love that will never, ever leave.