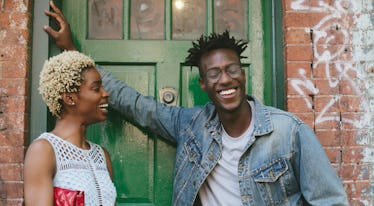 8 People Reveal Their Most Awkward First Dates & OMG, You Will Cringe So Hard
There comes a time in everyone's life when you find yourself on a date so unbelievably awkward that you legitimately wish something terrible would happen just to put you out of your misery. You know what I'm talking about — that on-edge feeling that makes you want to vanish into thin air without so much as a goodbye. The most awkward first dates can be attributed to pretty much anything under the sun. Maybe your date was really nervous, maybe you were totally distracted, or maybe you just realized from the moment they showed up in Crocs with socks that you two were just too different for things to ever work out. But thankfully, these painful experiences can be laughed about later and make for really entertaining dinner-party fodder.
Sometimes it really is shocking how bad a date can turn out to be. If you ask me, along with more comprehensive sex education, we also could use a few crash courses in what to do if your date keeps licking his lips and mumbling about how you look "good enough to eat" five minutes into your appetizers. Lol, yup.
As with most cringeworthy happenings, it's always nice to know that we're not alone. Courtesy of Reddit, here are some of the most awkward first date stories that will make you LOL and squirm, probably at the same time.