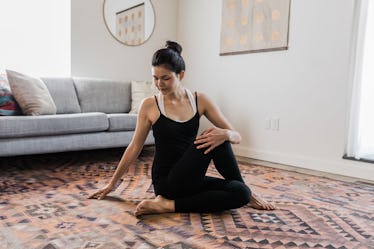 The 7 Best Yoga Poses To Do When You're Nervous & Need To Shake Out The Stress
Feeling nervous is a totally normal part of being human. Sure, it's not fun in any way, shape, or form, but I've always found that you're better off finding ways to channel that negative energy instead of just sitting with it and allowing it to consume you. Whenever I'm majorly worried about something, I always try to do some yoga poses for nerves to help soothe my mind and remind myself that, when I get into the right headspace, I can handle anything that's thrown my way.
When you think about what nervousness actually is, and what it's doing to your body, it's pretty freaking fascinating. According to Medical Daily, nervousness, stress, and feelings of anxiety are a trifecta of emotions that originally served as a survival mechanism for the human body. Thousands of years ago, this fight-or-flight response was literally necessary to keep you alive, but now, it's basically just a really extra response your brain and body tend to elicit when you get super nervous about something — even if that thing isn't life-threatening, like a job interview, or a "we need to talk" text message — and it doesn't go away until your body realizes there's no actual threat present. Good times, people. Good times.
The human body is a complicated thing, and when it comes to these situational feelings of nervousness, the only thing you can really do is breathe, try to focus your attention elsewhere, and find ways to release all the tension in your physical body. Try to shake out all those jitters with these seven nerve-busting yoga poses.
This article was originally published on