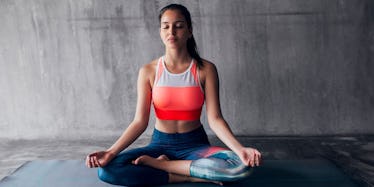 When You Can't Shake A Bad Mood, Try These 6 Calming Yoga Poses
Getting into a bad mood sucks, and what's really annoying is when people make attempts to cheer you up and you feel like the worst person ever when you just want them to GTFO. Like, I'm sorry guys, I'm literally just over here thinking of that person who wronged me back in 2009 and need a little time to marinate in my own saltiness. Honestly, the only thing that can calm me down when I'm in a total funk is doing some yoga poses for a bad mood. After I'm done with a few of those bad boys, I can actually think logically and clearly again (and let that sh*t that was bringing me down, go).
Sometimes there's no rhyme or reason for a sour mood; it just hits you out of nowhere and you can't help but be a complete grump until it passes. Sometimes, though a bad mood can be due to lack of sleep, road rage, or (my least favorite thing ever) being "hangry".
Then comes when you try everything to shake your bad mood, but you're still immersed in your seemingly permanent pout — which gets you even more frustrated that you can't shake the unwelcome feeling. That's where yoga comes in, friends. Next time you're feeling salty and grumpy as ever, try these six yoga poses to calm your nervous system, mind, and body — and bring some pep back into your step.