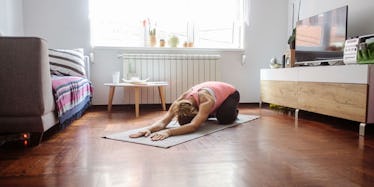 You Can Easily Do These 7 Workouts In Your Bedroom, No Matter How Small It Is
It's about that time when anyone and everyone migrates home for the holidays, wherever "home" may be. As magical as this time of year is, though, it can also present some difficulties in terms of keeping up with your workout routine. But worry not, my friends. There are workouts you can do in your room that'll help you coast right through the holidays with ease and feel amazing from the inside out in the process.
"Despite what you might think, you don't need tons of space to get a good, full-body, cardio and resistance workout," David Wiener, a training specialist for fitness app Freeletics, tells Elite Daily over email.
According to Wiener, effective HIIT and bodyweight training can be done anytime, anywhere, and an app like Freeletics can easily help you get the job done. The platform includes in-depth video tutorials and training instructions to guide you through hundreds of workouts, and demonstrate the proper training techniques and form along the way.
However, if you don't have access to Freeletics, don't sweat it (pun intended). Josh Morin, a strength and conditioning specialist and certified nutrition coach, has you covered with a home workout that'll challenge you from head to toe. "Perform each exercise for 45 seconds with 15-second breaks [in between]," he tells Elite Daily.
In total, Morin suggests performing four rounds of the following circuit, with a one- to two-minute break between each round. Happy sweating, fam!