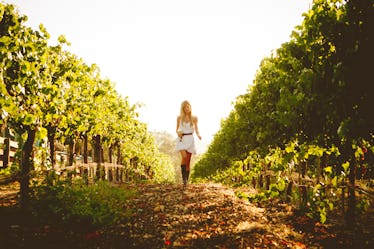 More Wine, Please: These Unexpected Wine Regions Need To Be On Your Bucket List
One never needs an excuse to go wine tasting. Whether it's harvest time or poolside rosé season, the idea of going straight to the source has never been more luxe. Although wine tasting trips are nothing new, with the classics including Bordeaux, Tuscany, and Napa (Oh my!), there are plenty of up and coming wine regions you never thought to visit, and should really add them to your bucket list ASAP.
Visiting wineries allows you to understand not only how each wine is made and what goes into the process, but also how the soil, sun, and water affect the vintage you indulge in. While the environment and climate both play big roles in the winemaking itself, they also create a curated landscape that allows for a fabulous getaway for your next vacation (and pretty awesome shots for Instagram).
While the tried and true destinations are great, there are also plenty of benefits in giving other vineyards a visit. Whether it's trying exclusive reserves, sipping in quaint tasting rooms, or getting early member discounts, smaller wine regions need support as well. From the corners of Europe, to the depths of South America, the terroir of wineries is expanding, and we are loving every minute of it. Here are seven wine regions that surprise and deliver.