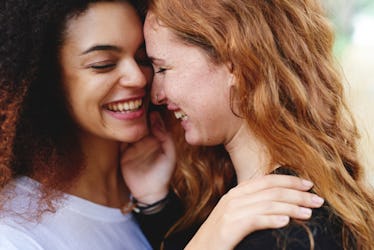 7 Valentine's Day Gifts To Give 6 Months In To Be Romantic But Not Too Serious
How soon is too soon to exchange Valentine's Day gifts? For example, let's say you met your winter cuff in November and you're still going strong, is it too soon to expect a box of top-shelf chocolates and 100 red roses? Maybe. But expecting Valentine's Day gifts for 6 months of dating — you know, assuming your summer fling is still being flung — is fair game, right?
At the six-month mark, it's safe to assume you've already spent the night at your partner's place or they've spent the night at yours. You might have even met each other's parents or said "I love you." Even if you're not sure you'll be dedicating an Instagram post to them this Valentine's Day, getting them a small gift seems like the right thing to do.
Before you plaster the walls of their apartment with thousands of love notes, remember that you don't want to scare this person off. Your six-month Valentine's Day gift should be simple and understated and, for the record, so should any social media posts about your partner on this day.
Here are seven Valentine's Day gift ideas that are perfect for the couple who've made it to the half-year point. Congratulations!
For The Music Lover
These on-ear, wireless headphones are functional and stylish. Show your partner that you appreciate their taste in music, even if you don't always love every song they play for you.
For The Tech Junky
PopSockets are fun accessories for anyone who has trouble putting their phone down during the day. You can design your own or choose from themes like Greek life, emojis, and mandalas. You can even get your partner's favorite Marvel or Justice League characters printed on them to prove you actually listen when they go on rants about their favorite movies.
For The Homebody
If you and your partner met at college, this is perfect. A hand-poured, soy wax candle that reminds them of their home sate is honestly so thoughtful. This Massachusetts candle, for example, smells like apple cider, cinnamon, and fresh-baked donuts.
For The Creative One
If your partner is a boss babe who likes to get creative in her spare time, this adult coloring book by Michelle Volansky is full of inspirational female figures from Serena Williams to Beyoncé. There's even a page with a mirror outline that asks them to draw themselves in as a boss babe, too!
For The Caffeine Addict
You know what they say — coffee makes the world go 'round. Surprise the coffee lover in your life with this deluxe coffee and chocolate tasting box from the Bean Box. It comes with eight hand-picked gourmet coffee flavors to try and eight chocolate bars to pair them with. I'm pretty sure this is what heaven tastes like.
For The World Traveler
This scratch-off map is just what their apartment or dorm room needs. It's a great way for them to keep track of their travel bucket list and an even better conversation starter when they have people over. Who knows? Maybe the two of you can scratch a couple places off together in the future.
For The Photographer
It's official — instant cameras are back. This quirky item is the perfect collectible for the person who's always taking photos. Sure, it's not as glamorous as a professional grade camera but it'll still be obvious that you support their passion for photography.
There's no need to go all out for Valentine's Day if you've only been with your partner for six months. Instead of doing something wildly elaborate that might overwhelm them — like, oh I don't know, booking a sunset helicopter tour of your city — keep things light and fun on Valentine's Day. Your Valentine's Day gift shouldn't be more serious than your relationship is.
Check out the entire Gen Why series and other videos on Facebook and the Bustle app across Apple TV, Roku, and Amazon Fire TV.
Check out the "Best of Elite Daily" stream in the Bustle App for more stories just like this!