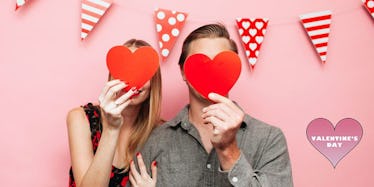 What To Do On Valentine's Day In Each Stage Of A Relationship, According To An Expert
Kayla Snell
What's that smell? Oh, it's just good ol' love.
Valentine's Day is slowly creeping upon us, and with the holiday comes the opportunity to bask in a ton of sweet affection with bae.
The big question is, what should you two do, exactly?
For those who've been dating for a pretty decent amount of time (like a few months, give or take), plans are easy to figure out because you're better able to hone in on what your partner likes and dislikes.
According to an Elite Daily reader survey, 85 percent of women and 76 percent of men would celebrate Valentine's Day with someone they were dating for at least six months.
But, the longer you date, the faster that excitement seems to dampen a little. If they were dating for a year, 84 percent of women and 73 percent of men would celebrate Valentine's Day, as opposed to 82 percent of women and 67 percent of men who would celebrate Valentine's Day with someone they were dating for two years.
Don't let love go to waste, guys!
Here are four different ways to celebrate Valentine's Day with your partner this year, based on how long you've been dating.
If you just started dating...
Valentine's Day for a newfound romance should be more about having a good time than expensive wining and dining.
Relationship expert and author of "He's Just Not Your Type (And That's A Good Thing)" Andrea Syrtash says, "Plan something fun, like hot chocolate at a charming cafe, dinner at a cool restaurant or drinks at a good bar. No need to spend tons of money to 'treat' someone to a fun night."
If you've been together a month...
Now, if you regularly walk the streets holding hands and haven't slept alone in weeks, things are getting real.
You've been together just long enough that there's still excitement that comes from finding new things out about your partner and celebrating them on V-Day.
Syrtash says,
A month in, you may want to put in more effort to plan something you know he/she will enjoy. You may want to make your date dinner or take him/her somewhere out of the ordinary. This is the time in a relationship where (if you're into each other), you're both pretty 'high' and excited, so it won't take too much to create romance!
If you've been together a few months...
You eat the same cereal and aren't afraid of them hearing you pee when you use the bathroom. You're basically molding into the same person.
And realistically, after a few months, you might have a knack for guessing what they're thinking.
This is the time to really hone in on what you know they like, and play it up for the special occasion.
"By now, you know your date pretty well, so try to plan something specific to his or her interests," Syrtash says. "For instance, if she always talks about wine, set up a romantic wine-tasting at a wine bar."
If you're committed and long-term...
This is the point where you really have to put in some effort.
You've celebrated enough Valentine's Days that each year, scheduling a romantic event just seems mundane and unnecessary.
Well... get out of that mindset.
"Ironically, when we are closer to people, we sometimes plan less because we take for granted that he/she will be there," Syrtash says.
So instead, use this an opportunity to spice up your relationship and do something that still comes as a complete surprise to your partner.
Get out of your hometown, and go on a road trip or long, weekend excursion. Try new foods, and if you're really feeling crazy, test out new, sexy bedroom tricks.
Syrtash agrees, "Get outside your comfort zone and try a place you've never been to together. Novelty is the secret sauce in long-term relationships!"
Do whatever it takes to keep that spark alive.