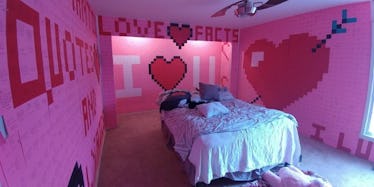 Husband Spent Valentine's Day Covering His Bedroom With 7,000 Post-It Notes
Reddit
Welcome to 2017, a time when your marriage proposals have to be a flawlessly executed work of performance art and your Valentine's Day has to be more wondrous than a magical carpet ride over Agrabah.
Sorry, but flowers, chocolates and a foot massage don't cut it anymore, which sucks because my dogs are barkin' up a storm. (Quit yappin' now, ya hear?)
This is especially so after one husband covered his entire bedroom with 7,000 Post-Its with written notes about the things he loved about his wife Jennifer Brinley.
Guys, if you find a gal you can find 7,000 things you love about them, put a ring on it. Personally, I don't even love 7,000 things about myself.
By the way, some of these notes by Jennifer's husband are hilarious.
If you can kiss through the coffee breath, it's meant to be.
I feel like I'm the only one on this planet who couldn't care less about where their bed is situated. I also live like an absolute heathen.
Who goes outside naked? This guy seems like a genuine romantic, but getting caught outside while you're in the buff? This seems like a streaking fetish to me.
This is the kind of message that tells your SO how you'll love them in this life and the Upside Down.
So, what did Jennifer get her husband, who's also an elementary school teacher?
This is going to make me sound horrible! All I got him was Japanese soup spoons. He loves to eat cereal with them. But usually we do a small Valentine's Day because our anniversary, my birthday, and Christmas [are] in December.
There are two types of people in the world: soup spoon-givers and heartwarming Post-It redecorators.
Who am I to judge, though?
The best present I've ever given was an old, wrinkled ticket stub with the words "One Ticket To Kiss Town, Population: Our Mouth Holes" written on it.
Citations: Mashable