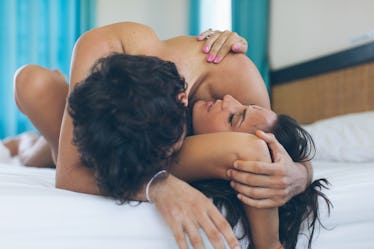 7 Sex Moves To Try If You Love The Missionary Position But Want To Switch It Up
Missionary sex typically scores pretty low on the vanilla-to-kink scales, which is not surprising considering that's how most of us probably lost our virginities. What is surprising, though, is that a lot of the sex scenes in this era's ~sexiest~ movie franchise, Fifty Shades, involve some version of this bedroom classic. All you need (besides a red room and a velvet-lined shelving unit for your butt plug collection) is a slightly updated playbook. You know, a list of creative twists on the missionary position. If it's good enough for Christian Grey, it's good enough for you.
Honestly, I'd bet on missionary sex every time because it's a low-risk, high-reward situation that doesn't require the acrobatic prowess that most other positions do. I mean, WTF is the crab-walk cowgirl, anyway? Too much effort, that's what.
Missionary sex isn't just a cult favorite because it's easy to execute. This position gets right to the point, literally. Sure, the person on top is totally in control of their own pleasure but they're also occupying some prime real estate as far as their partner's pleasure zones go. This position allows for full-on, body-to-body contact and is ideal for clitoral and G-spot stimulation for partners with vaginas. Basically, it's intimate and hot and you need to stop hating on it. Here are seven adjustments you can make to missionary sex to make sure it never goes out of style.