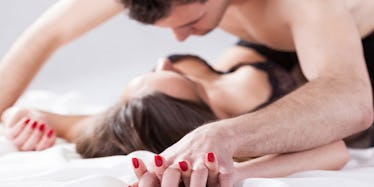 Why Missionary Will Always Be The Best Sex Position Of All Time
shutterstock
Considering that I write about sex and have the libido of a 17-year-old boy with access to his father's copies of Playboy, this may seem shocking: My favorite sex position is missionary.
I'm a bit of a pillow princess. I'll admit this fact, and I'm not ashamed of it. No, I don't lie on the bed like a starfish and stare blankly into the distance while my partner does all the work. I'm an active, enthusiastic participant. But if we're getting down to it, I have better orgasms when I'm in missionary.
It's difficult for me to achieve climax in cowgirl, doggy-style or while standing up. If I have to focus on moving at the right pace, making the right noises and keeping a rhythm, I'm not going to be able to come. There's just too much going on to be able to focus.
And we all know the female orgasm takes focus and concentration.
That's what people don't get about missionary -- that just because you prefer the classics doesn't mean you're vanilla. After all, my ducklings, the most exciting sundaes of all start with a vanilla base. Add a little caramel, sprinkles, blindfold or nipple clamps to anything, and it's going to soar way above average.
Just because something is tried and true doesn't make it lame. Doggy style is great and all, but when I want to get down and dirty and guarantee my orgasm, I'm going for missionary.
Missionary is the standard, boring position, but it is also the most faithful, the most loyal and the most intimate of them all. Missionary honestly gets a bad rep, and it really isn't fair.
This is an ode to missionary, the best f*cking position of them all.
You get to focus on YOUR pleasure.
When you're in missionary, you don't have to worry about rhythm, movement or pace. Your partner takes care of this for you. Instead, you get to focus on what you're feeling. You get to lie back and absorb all of the pleasure coursing through your body.
For a woman, coming takes more severe focus. You have to concentrate on everything that is happening to your body. Being a pillow princess means being a serviced and satisfied sexual partner.
You have easy access to the clitoris.
When you're lying on your back, your clit is just a reach away. It's very easy to get at your hot spots when you're in missionary. You get all the benefits of masturbation and penetration in tandem.
You also have prime access to your partner's ball sack for a little rub and juggle. See? In missionary, everyone wins.
Your man looks smashing from that angle.
Guys look f*cking hot and primal in missionary. Plain and simple.
The view brings back those sexy dry humps from high school. His arms are bulging from balancing over you. His abs are crunched and rippling. He looks f*cking hot from below.
And since he's looking extra tasty, you're going to be extra turned on. It's so sexy to have him in such a dominating position. Ugh, I'm getting turned on just thinking about it.
You don't exhaust yourself.
Let's stop pretending cowgirl is fun because we all know the fun goes out the window after about five seconds. Look, I work out six times a week (I know, go me), and I'm out of breath and practically passing out after 20 seconds of cowgirl.
If there is one thing we all know to be true, it's that getting off when you're doing the work is next to impossible.
Sure, the stuff they say about being in a good position for clitoral stimulation is true, but how turned on can you get when you can barely catch your breath?
It'd be one thing if guys let you just rock back and forth. But no -- he wants you to fucking BOUNCE. It is super strenuous. It makes sex more work than play. I'm not about that.
In missionary, you get to relax and actually enjoy yourself. You don't have to worry about 50 things at once.
Direct G-spot action is just a pillow away.
Not only do you have an all access pass to your clit, but you also are at the perfect angle to have your boo thang's wiener smash your G-spot with delightful frequency. The only thing you need is a pillow. Placing a pillow under your bodacious booty allow your partner to penetrate you from a better G-spot angle.
Combine that with a two-finger click of your mouse, and you're on your way to orgasm-land. You're welcome.
It's the most intimate position.
Okay, so missionary is not an ideal position when you have a one-night stand. There are far too many opportunities for unwanted, awkward eye contact. When you're with someone you don't give a sh*t about, you'd rather be in a position where you can have as much anonymity as possible.
When you're with someone you care about, missionary can be the most amazing, intimate position of them all. You get to look into your partner's eyes and make out as grotesquely as you see fit.
There is just something that makes you feel so connected about missionary. Your bodies are so close. It's actually really passionate, as long as you stop being an assh*le and give into it.
Your tits will never look better.
One of my favorite things about missionary is how amazing I look from this position. Your boobs just look so perky and full. Your stomach looks its flattest, and your partner looks down at you, so you know you're free from the fear of a double chin.
During sex, you obviously shouldn't focus on how you look, but knowing you look f*cking banging doesn't hurt the overall experience. If you're feeling comfortable with your body, you're much more likely to let go of all your tensions.
It's the perfect position for a little consensual domination.
Missionary may be a tame position in theory, but it is the easiest one to spice up. You can have your partner blindfold you, strap your ankles to the bed and go ham on your body. You can easily reach up and choke the sh*t out of him or her from missionary.
Plus, missionary gives you an all-access pass to his butt. Any guy who says he doesn't want a good, firm spanking during coitus is either lying or hasn't tried it.
Who says being a pillow princess means you're not an active participant? Hm?
All in all, missionary is hot. And if you don't think so, you're probably just taking advantage of it. If you have a really hot sex life and are a minx betwixt the sheets, you rock any position.
Even missionary. Especially missionary.
"Missionary is lame," said no one who was doing it right.