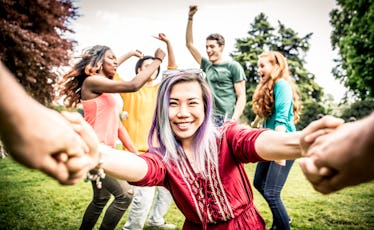 7 Traditions You & Your SO Should Start With Your Friend Groups Now
When you have a boyfriend or girlfriend, you've decided to make room for another lovely person in your life. And although every new relationship is so exciting, you never forget about all of your awesome friends since day one. You and your new boo are still heavy on maintaining that dope feel within your group of friends, but now it's time for those two worlds to beautifully collide. It's not a bad idea to think about traditions to start with your boyfriend or girlfriend, and your group of friends, because that special person is part of your tribe now.
These traditions will be so much fun, because the vibe within your group of friends is always inviting. You all are so tight, but not too tight to the point where you are against letting anyone in. Anyone who's worth being in your life is surely OK to be in theirs as well.
If you and your SO both come from the same group of friends, you're already all set. If not, combining these two friend groups will be so interesting, but rewarding if everyone is game to be included. Your traditions are going to be tailored towards the consensus of what fun is within your groups, but here are a few ideas to get you started.