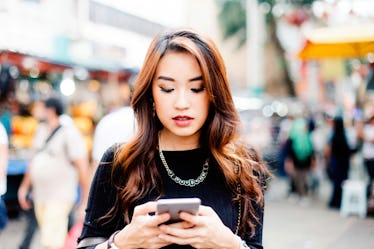 7 Tips For Using Dating Apps On A Small Campus With A Tiny Dating Pool
That age-old saying "There are always more fish in the sea" is honestly pretty comical when you're trying to date on a small campus. Sure, there may be plenty of fish in the sea... but what happens when you're stuck in an inland lake for anywhere from two to four years? Don't panic. Take a look at the following tips for using dating apps at a small school for some advice. This body of water may be smaller than the ocean, but it can run deeper than you'd expect.
First of all, it's OK to be frustrated with a smaller dating pool — and you're not alone in that feeling. For instance, Mo, 21, says, "Small "women's' college equals queer drama like you've never seen it before. Dating is a hellscape. My advice is to just not." So, if you're feeling pretty bleak, you have company. But dating on a small campus, regardless of your sexuality, is definitely possible if you're really interested in making the most of the dating opportunities available to you. Dating coach Meredith Golden offers some advice specific to small campuses that is sure to make the process, well, less of a hellscape.