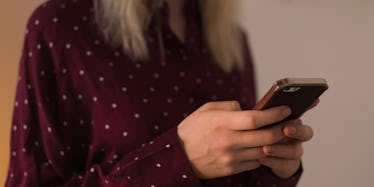 Tinder Gold Is Finally Here For Everyone And You'll Want In On These New Features
ATTENTION, EVERYONE: If you were about to give up on Tinder because you felt like all hope was lost, first of all, don't be so pessimistic! The state of our world is great! Everything is AWESOME. Just kidding, I understand your cynicism. But now, Tinder's got a new update — finally available to iOS users in the U.S. — that could make swiping on the app even better for you: Tinder Gold. What is Tinder Gold, you ask? Well, allow me to refresh your memory of the sick new features that come along with this update.
Basically, as we've told you before, when it was only in the testing stages in a few countries, Tinder Gold is a paid, member's only service that aims to make getting matches and just using Tinder a little easier for you. And seriously, this couldn't have come at a better time, because my Tinder life is looking bleak AF right now.
This latest update gives members a ton of features they haven't seen before, like Passport, a Rewind feature (you know, in case you accidentally swipe left on the most beautiful human you've ever seen in your life and wanna die because of it), Unlimited Likes, five —count 'em, FIVE — Super Likes per day, and a monthly profile boost, if you so wish.
But it seems the most interesting feature that comes along with Tinder Gold is the "Likes You" feature. This feature is pretty self-explanatory, as it lets you see exactly who's liked you Tinder profile — WITHOUT you having to swipe on them first. That's right, you can literally look at all of your potential suitors and pick which ones you wanna match with, minus all the sifting through really f*cking weird profiles that don't make any sense. It's like in Princess Diaries 2, when Mia goes through all the potential royals to marry. How convenient.
Now, like I said, this is a paid service, because nothing in life is free. According to Cosmo, it will apparently cost you a little more than Tinder Plus. So if that means not buying Seamless for the fourth night in a row, all in the name of finding love on Tinder, THEN SO BE IT. (I'll miss you, fourth night of Seamless.) After all, it may work out in your favor, as those who tested Tinder Gold saw a 60 percent increase in matches when using Tinder Gold.
Go forth and prosper, my dear Tinder friends. May the Tinder Gold swipes be ever in your favor.
Check out the "Best of Elite Daily" stream in the Bustle App for more stories just like this!