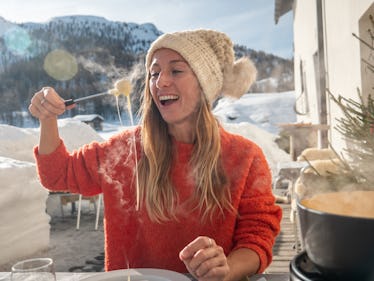 These Whipped Cheese Dip Recipes On TikTok Will Level Up Your Charcuterie Board
Thanks to all the wine Wednesdays and Bachelor nights with your roomies, you've gotten really good at putting together a basic charcuterie board. That means you know just where to place your cheese, crackers, and veggies for a nice presentation. But now, it's time to take it to the next level. Instead of simply cutting and putting out your typical assortment of cheeses from the store, try out a few TikTok-inspired recipes for whipped cheese dip to place at the center of your board.
After all, you'll want to show off your impressive kitchen skills by having your whipped cheese be the main attraction. It also sets the mood of your board as far as flavors go. If you want to get creative and have a Greece-inspired charcuterie board, mix up some fresh whipped feta cheese dip with roasted olives. Serve it in some blue dipping bowls that remind you of vacationing in Santorini ($60, Vietri). Or, you could put together a dessert charcuterie board for your super sweet movie night with bae. At the center of that board, have a bowl of cheesecake dip with sliced fruit all around for dipping. The whipped cheese possibilities are endless, so for your next cozy night in, whip up any of these seven whipped cheese dips from TikTok that are feta than you can imagine.