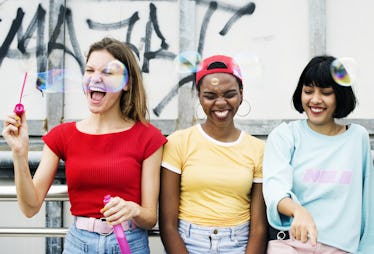 7 Things Every Girl Can't Help But Stress About Before Going To Her High School Reunion
High school was a thing of the past, but when that reunion time starts creeping up, you might start reminiscing on those four years like they were just yesterday. Ladies, we don't forget anything. So, it's only logical that there are things you stress about before high school reunion time, because so much happened in those four years and during the time that has passed between then and now.
Hopefully, everyone has matured and outgrown the immature drama that came along with high school. Regardless, call it butterflies or a mini heart attack, but the idea of gathering all of those no-longer-teenage faces again in one place is going to be shocking. Who the heck plugged in the time machine, anyway?
It seems like we were just casting our votes for the "class clown" or "most likely to succeed" superlatives. Now, we're probably bringing our spouses, kids, or stories about post-grad life back to the place where we all met. It's funny how quickly time can change things even if day by day it didn't seem like it. Well, you definitely have to round up your squad and go, because it'll be great to see everyone. But, don't be surprised if you have a mini stress attack about a few things beforehand.