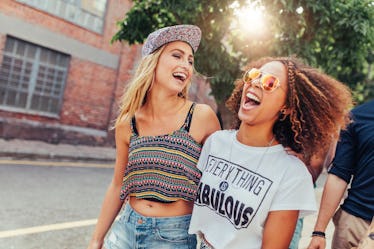 7 Things You Shouldn't Have To Ask Yourself If You Really Trust Your BFFs
When it comes to your best friendships, trust and loyalty are crucial to keeping your bonds strong. They're the two main qualities that basically determine if someone is, in fact, best friend material. Once a so-called "best friend" breaks your trust, it's a pretty difficult thing to rebuild. If you know you can rely on your girls with your life, there are just a few things you shouldn't ask yourself to reaffirm if you do.
The relieving part about having a solid group of BFFs is that you don't question their devotion. Best friends are meant to make your life easier and more enjoyable; they shouldn't be causing you any unnecessary stress or drama on the regular. Your besties are your confidants, partners in crime, and sometimes your protectors. There's no way that can be acquired without a foundation of trust. Your girls should have your back, no matter what.
Second guessing your friendships should never happen when you know these girls have your best interests at hand. They're the all-stars of your life. Just think about it — you already have to question and be weary of people you meet every day in this big world. You definitely don't want to carry that suspicion or doubt in your close circles. So, if your BFFs are truly meant to stick in your life for the long haul, you shouldn't have to ask yourself any of these seven questions.