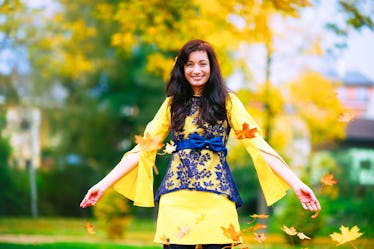 7 Things Every Disney Lover Needs To Add To Their Fall Bucket List ASAP
Shutterstock
Fall seems like the most magical time of year with the leaves changing colors and the aroma of cinnamon in the air. It's almost as magical as a Disney movie. If you grew up watching classics like The Little Mermaid and Beauty and the Beast, the nostalgia likely comes back to you all the time. You want to make the most of this gorgeous season, but you're not looking for another generic list of activities. What you need is a curated list of things to do in the fall if you love Disney, and I came up with just that.
You may not be wearing a ballgown, but your cozy sweaters and fall boots make you feel like a princess living your best life in a pumpkin patch. Pretty much everything you do, you want a little bit of that "faith, trust, and pixie dust" sprinkled on it.
So if you and your friends are trying to make the most of the season with tons of fun-filled weekends, you might want to consider doing any of these fall activities that are perfect for Disney lovers. They're a great mix of things offered at Disneyland and Walt Disney World, in addition to things you can do at home. Here's to hoping you have the happiest and most magical fall ever.