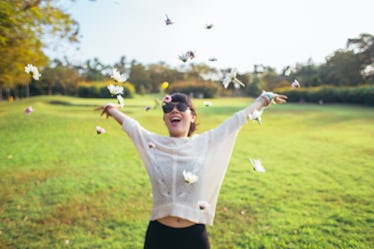 7 Solo Springtime Activities You Need To Do For Some Much-Needed "Me Time"
It's officially spring cleaning time — aka, the perfect opportunity to finally get rid of all of that extra stuff in your house you really don't need anymore. I don't know about you, but I personally need to do a serious overhaul in my closet, because it's a total disaster. Although you may need to break out the cleaning supplies, this time of year isn't just about freshening up your apartment. Spring cleaning can also be a crucial time to recharge and focus on yourself. There is nothing better than taking some much-needed "me time," and there are so many fun things to do by yourself in the spring.
It's finally starting to warm up outside, and the flowers will be in bloom soon enough, so it's a great time to be outside. There are also a ton of things you can do inside to truly pamper and treat yo' self — because let's be honest, you deserve it. The possibilities are endless, and the best part is you don't have to coordinate with anyone other than yourself. Scheduling is easy breezy, like sitting on a hammock on the beach. Now, all you have to do is consider any of these seven spring activities to do all by yourself. Spring is officially here, and we're ready to go on adventures, relax, and come out feeling re-charged.