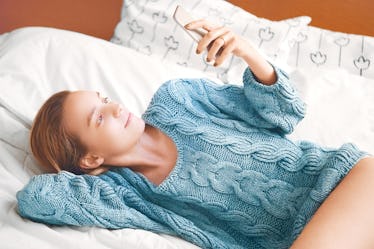 7 Eye-Opening Things That Happen When You Stop Checking Social Media In The Morning
Checking your Facebook account or Twitter feed when you wake up has become the equivalent of reading the morning newspaper. It's so instantaneous, that it has simply just become a part of the morning routine as we sip our coffee. But what happens when you stop checking social media in the morning? You'd be amazed.
Honestly, think back to the time before you had a Facebook, Myspace (yes, I took it there), or Twitter account. The days weren't regulated by how many notification alerts you had, or how many things you liked or shared before you even got out of bed. I mean, I get it; our phones give us so much access to everything that when we close our eyes anything is bound to happen (and we want to be in the know). Well, I hate to break it to you, but no matter if your eyes are closed or open, current events are always unfolding at a rate you will never control.
So, chill out and let the mornings do what they're supposed to do: wake you up. Social media in the morning has the ability to shape your day, and not always in the best way. Call it a cleanse or whatever, but ditching the tweets and likes first thing in the morning can really benefit you in these seven ways.