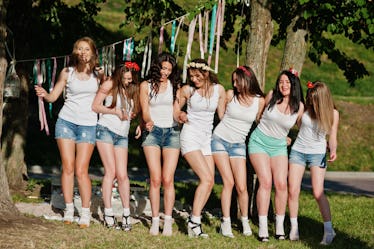 7 Things I Wish I Knew Before My Bachelorette Party
I'm pretty sure the moment my boo sobbingly got down on one knee and popped the big question, my sister (aka, birthright maid of honor) was planning my bachelorette party. It was categorized as epic before it even began. In hindsight, there are a few things I wish I knew before my bachelorette party, because I'm a hopeless perfectionist and always like to feel like I'm ahead of the game.
Don't get me wrong, my bachelorette party was absolutely amazing and I have a special memory with every dope girl who made the trip with me. Blame the type-A in me, but if I could step into a time machine, I'd whisper a few heads-up tips to my recently engaged self of the past. What can I say? I'd have her back like she'd have mine. Wait, did I just refer to myself in the third-person?
Anyway, there's so much going on around the time of your bachelorette party, that when you look back, you'll wish you had done a thing or two differently. Personally, I couldn't have asked for a better bridal party. They are a major part of the keepsake memories — aside from my hubby — that are engraved in my special day and the time leading to it. Amidst all the wedding chaos, I wish I had the scoop on a couple of things before my bachelorette party.