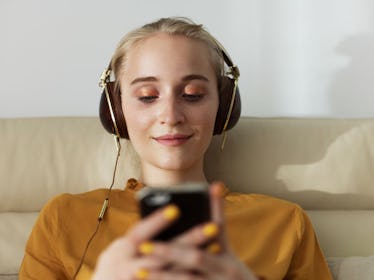 7 Texts To Send When You Miss Your Partner & Wish They Were With You
When you're missing bae, you're probably willing to go to great lengths to make that aching go away. This could mean distracting yourself by grabbing drinks with the girls or attempting to quell the agony by scrolling through countless photos on their Insta (which usually only makes it worse, TBH). Did you ever consider that there are certain texts to send when you miss your partner that could actually make you feel closer to them? Reaching out not only lets your SO know you're thinking of them, but it also offers the connection you crave — which is oh so key when you're really feeling their absence.
It probably goes without saying that communication is crucial in any relationship, and texting can be a godsend for helping to fill that gaping void when you're missing your partner's presence. It's easier than ever to maintain contact with your significant other, so why not take advantage of all that technology has to offer? The only question, of course, is what to text. Sure, you could just say, "Miss u," but what's unique about that? The idea is to send a text that fully encapsulates how you're feeling, but also elicits a response that will hold you over until you see your partner next.
Whether your boo is on a week-long work trip or you just haven't seen them since they left for the office this morning, here are some unexpectedly sweet texts that show you're missing them, like woah.