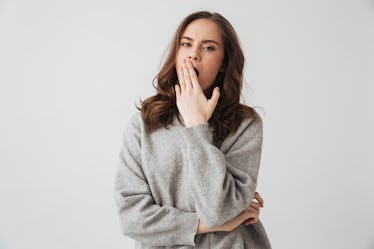 You Probably Didn't Know These 7 Things Are Contagious, But They Really, Really Are
Usually, when you think of contagions, you tend to think about 18th-century illnesses and disease, or an especially wet cougher on the subway. But in truth, there are several surprising things that are contagious, both medically and psychologically, that you'd never expect to spread so easily from one person to the next. It's an obvious statement that we're all, in one way or another, affected by the things around us, but you might not have ever known you were this influenced by, say, your friend who just quit smoking cigarettes, or your stressed-out roommate.
In truth, certain feelings, sensations, and even emotions can sometimes be every bit as contagious as a head cold or a rash. What makes this whole situation a little bit more challenging is that, yeah, you might know how to avoid catching the flu (by washing your hands, for example, and avoiding crowded areas), but it's much harder to avoid "catching" a feeling, especially when you don't even know what the source of your feeling really is.
The more researchers learn about the way humans interact with one another, the more clear it becomes how heavily people are affected by the communities they spend time with. So you might want to think about what types of emotions and energy you're giving off to your friends, because you never know what they're going to catch, or vice versa. Here are seven totally surprising things that can actually be contagious.