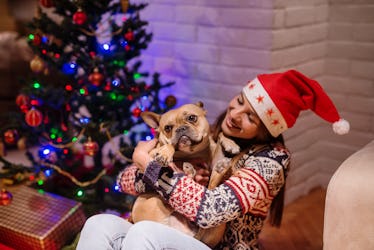 7 Stocking Stuffers For Your Dog Who's Been A Good Boy All Year Long
This year, you plan on crushing it in the Christmas gift department. You bought something sweet for everyone in your family, and you've crossed off your besties from your shopping to-do list as well. Now, you have to find something particularly special for your adorable fur baby, because let's be honest: They're the most fun to shop for! Your pup has been good all year long, and truly deserves the world. (They're always on Santa's "nice list," after all.) Of course, a new sweater, box of holiday-inspired treats, or squeaky toy is always an option, but you want to go all-out with the stocking stuffers for your dog.
It's safe to say your pup is your best friend, and will wag their tail at whatever present you decide to give them, but you're looking for that extra special tail-wagging-jumping-for-joy combo that comes with pure excitement. Whenever your dog is happy, it makes you happy.
To make sure you and your pup have a very merry Christmas this year, consider purchasing any of these seven gifts for your dog's stocking ASAP. Just don't forget to post a cute pic of your puppy with their stocking on Instagram, and caption it with, "Happy Howlidays!"