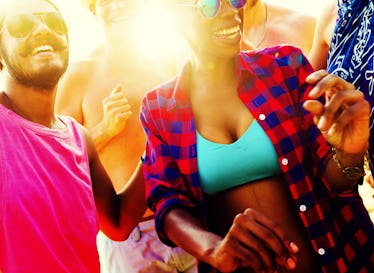 7 Cool Items Under $20 You Need To Really Enjoy Your Spring Break
For college students, spring break is that silver lining in the sky that temporarily frees them from tests, professors, and late hours spent in the library. It's a full week of whatever the hell you want, including fun — which you can always somehow afford. "Affordable" is the most attractive thing you can say to a college student, and spring break party items under $20 would have anyone in a pinch me, I'm dreaming phase.
If you were saving up all semester for spring break, you're happy to find any way you can keep an extra few bucks in your wallet. You'll have plenty of other times to splurge over spring break, so the prep stuff shouldn't have you excessively coming out of pocket. Sunny skies and blue waters should be the only thing on your mind the second you walk out of class on that glorious day before your break begins.
Depending on what you're doing, the items you need will vary, but you can never go wrong with cool knickknacks. Basically, with any of these items, you will be at the center of those instances when dope sh*t happens. Save your money and make your spring break festivities extra lit with some affordable items.