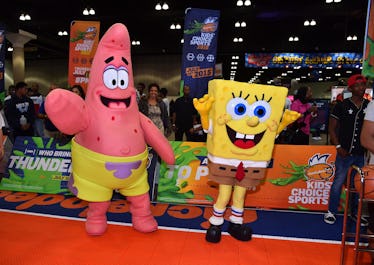 7 'SpongeBob' Group Costume Ideas That Are Perfect To Wear This Halloween
Alberto E. Rodriguez/Getty Images Entertainment/Getty Images
Who lives in a pineapple under the sea? Your very own SpongeBob SquarePants Halloween costumes, that's who. Er...what, I guess. Time is ticking on getting your costume pulled together and if you're going as a squad, these SpongeBob group Halloween costumes are the perfect fit for the whole gang.
SpongeBob has that perfect mix of silly and nostalgia, and there are enough characters to make the costume idea totally work for a larger group. Of course, there may be some debate about who among you will be SpongeBob, but there's an argument to be made that any of these characters are truly the best (I'm a big Patrick fan, myself).
Check out some of the options to get together your SpongeBob Halloween costumes perfectly, from the ever-easy, store-bought costume to some crafty DIY options that are great for the more talented and budget-conscious in the bunch. Be warned, however — a Squidward costume is a challenging look to pull off, but I have every faith you can rise to the challenge.
First, to get into the spirit, a SpongeBob SquarePants theme song singalong seems appropriate. Well, it's as good an excuse as any to go all in with the Nickelodeon classic for your costume inspo, anyway.
Now that we've got that out of the way, let's dig in.
1. SpongeBob SquarePants
SpongeBob Tunic Costume, $31, Amazon | SpongeBob Squarepants Deluxe Tunic Costume, $38, Amazon | SpongeBob Costume, $30, Amazon | SpongeBob Shirt/Skirt, $19, Amazon
Obviously. Embrace the square pants. Literally. With an easy tunic costume, you simply slip the SpongeBob costume over a base outfit of a long sleeved white shirt and white leggings, and voila! This one comes in a variety of expressions, and one "deluxe" version with 3D facial features. There's even a sexy version of SpongeBob — go figure.
2. Patrick Star
Inflatable Patrick Costume, $42, Amazon | Patrick Dress, $66, Amazon
Patrick is the perfect counterpart to SpongeBob, so if your Halloween squad looks to be more like a couples costume, this duo is a perfect match. If you're looking to go a little bigger with your look, try an inflatable version of Patrick, which is guaranteed to bring more than a few laughs. Or, check out the sexier costume option for Patrick, if that's more your style.
3. Sandy Cheeks
Plastic Space Helmet, $12, Party Bell | White Long Sleeve Shirt, $11, Amazon | White Leggings, $10, Amazon | Squirrel Tail, $22, Amazon | White Trash Can, $17, HomeDepot
This Texas squirrel deserves a spot in the SpongeBob crew, but you're going to have to get into your craft groove to nail this one... recreating Sandy's astronaut suit and helmet takes a bit of work. Check out some options to replicate her look, which includes a bubble helmet, trash can (hey, it can be done!), and of course, a squirrel tail. A pink flower made from felt or construction paper completes the look.
4. Sheldon J. Plankton
Green Onesie, $41, Amazon | Assorted Felt, $17, Amazon | Pipe Cleaners, $8, Amazon
Bring a bit of evil to the group costume dynamic with Plankton — and if you've got someone small in the group, this is perfect. Plankton is half the size of SpongeBob and the smallest resident of Bikini Bottom. When pulling this look together, think green, big eye, antennae, and a toothy grin. Don't forget that eyebrow!
5. Gary the Snail
Blue Hoodie, $15, Amazon | Headband, $5, Amazon | Pink Pillow, $19, Amazon
You've got to have a Gary in the group, but how easy is it to come up with a snail costume? Surprisingly, it's not the hardest, but you may have to get creative. A simple blue hoodie is your base, paired with an antenna headband you can glue Gary's eyes onto, and a pink pillow to bring his snail shell to life.
6. Squidward
Orange Polo Shirt, $6, Amazon | Green Pants, $24, Amazon | Green Shirt, $18, Amazon | Baker's Hat, $9, Amazon | Fiber Fill, $12, Amazon
Squidward is the costume for whoever is the craftiest in your group because finding a Squidward look ready to wear is impossible. You might want to scour the internet for inspiration, such as this costume that used a baker's hat as the base, wrapped in blue fabric and stuffed with fiber fill. The face can be drawn and painted on cardboard and attached. Then, find some blue pants and an orange shirt to pull it all together.
7. Mr. Krabs
Crab Hat, $7, Oriental Trading Company | Crab Claws, $24, Amazon | Light Blue Shirt, $16, Amazon | Money Bag, $7, Amazon
Don't forget the owner of the Krusty Krab! This look can easily be pulled together with an entire crabby costume, or just some of the pieces (a hat/headpiece and claws) paired with a shirt and pants. Given his love of money, the perfect Mr. Krabs prop is cash!
Get your friends together for some required Halloween viewing while crafting your costumes... SpongeBob SquarePants: The Legend of Boo-Kini Bottom, airs at 7 p.m. Oct. 13 on Nickelodeon.
Check out the entire Gen Why series and other videos on Facebook and the Bustle app across Apple TV, Roku, and Amazon Fire TV.