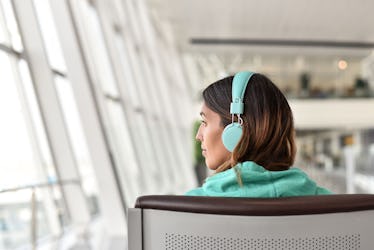 7 Songs To Avoid Listening To After A Breakup, Because Your Heart Definitely Will Go On
Music can be the best medicine, especially when relationship problems have got you down. In fact, if you're heartbroken, you might want to turn to some sappy slow jams to console yourself during this hard time. It seems like there are about a zillion breakup songs out there and it may be tempting to make a playlist titled "#Mood" to match your freshly single and sad state. But before you get going, I gotta tell you that there are some songs to avoid listening to after a breakup. And while everything still stings, it might be smart to steer clear of these heartbreak ballads.
Some songs may really speak to you after ending things with your most recent bae, but they also might put you in a position to keep wallowing in your tears when it's time to move on. While "thank u, next" and "Since U Been Gone" offer positive, grateful spins on breakups, others might not be as productive when it comes to helping you mend a broken heart.
Personally, I think upbeat music can be a cure-all when you're in a romantic slump, but you might have your eye on some sadder songs that make you feel like you wrote the lyrics yourself. Do what you gotta do, of course, but maybe steer clear of the super gloomy tunes.
Here are seven songs you should avoid listening to if you're going through a breakup.